CURRICULUM
The curriculum is such that each child has an opportunity to fully participate in the daily educational process. The age groups range from 2 years through 18 years old. The children are presently divided into three levels; preschool, primary, and secondary.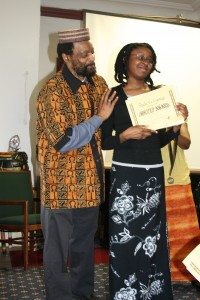 Within each group the children are taught the basics: reading, math, physical education, writing, arts and crafts, Afrikan and world history, science and geography, on their respective levels.
Academic standards are set high and each student must perform well in order to keep pace with tightly administered program.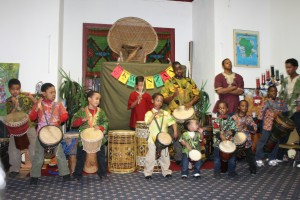 Special subject teachers provide instruction in the areas of health and nutrition, computer science, plumbing, Kiswahili, Zulu, Afrikan arts, music, Afrikan dance and Afrikan drumming.
The Ujamaa curriculum offers a wide range of courses, which allows the students to fully explore new areas of thought and action at an early age; the courses are specifically tailored to the student's individual ability and mental aptitude. Students must satisfy the basic requirements of each course and is periodically evaluated in terms of his or her overall progress and comprehension.
UJAMAA EDUCATION MATERIALS
The children perform on a group level as well as an individual level. Certain kinds of simulative educational materials are utilized to enhance their overall development.
Staff members have developed special books and lesson plans for this purpose. Other tools and resource materials have either been ordered from various educationally oriented outlets or ingeniously devised as the need presented itself.
Various books of relevant nature are available in the school library, and are updated on a consistence basis. Many visual aids, such as charts, graphs, maps pictures and illustrations are employed to maintain a high level of interest and easy identification. Students frequently take field trips and excursion, and daily interact with the residents of immediate community.
The total involvement of the families of the children is promoted, for this is
Of extreme importance in the total development and education of the child.
DIET
Ujumaa Shule is a vegetarian institution.
In conjunction with the overall innovating concept of an Afrikan education there exists the dynamics of natural living. This encompasses a whole new revolutionary manner of eating natural organic food, maintaining optimum body health, and identifying with the elements of nature. All people associated with the school are encouraged to adopt such a health-given regimen.
It is felt that such a way of conducting one's life will provide optimum body health and increased physical and mental vitality.